Photograph © Wayne Lorentz/Artefaqs Corporation
Photograph © Wayne Lorentz/Artefaqs Corporation
Scroll down for more pictures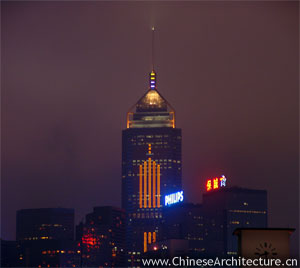 Photograph © Wayne Lorentz/Artefaqs Corporation
Photograph © Wayne Lorentz/Artefaqs Corporation
Print this page
•
Share this page
•
Map This
The height of a skyscraper is a powerful statement. It says strength. It says progress. It says enough that if you have enough height, you don't need a lot of decoration. Think about elegant women at formal functions: The tall ones wear simple, striking gowns. The short ones festoon themselves with baubles and beads. It's a message this building didn't get.

Which is a shame, because this is not a bad building. It's tall. It has a good location. The spire is nice. But unlike its striking and simple neighbor, Two ifc, Central Plaza suffers from adornment overload. Yes, we know it's pointy. But do we need to reinforce the "reach for the sky" sentiment with flying buttresses? It makes the building look like a 1960's space capsule, not a 1990's architectural icon. And what's up with the gold racing stripes? Is this a "Type R" building? Do the stripes make it go faster? Or rise taller? Stripes are slimming on a fat man, but on this skyscraper they're misplaced. The gold stripes are in the silhouette of a smaller building, while the rest of Central Plaza reflects the sky. That leaves the impression in the mind that the building is smaller than it is.

Again, there are a number of positives for this building, as well. The developers took the bold step of creating a building with a triangle-shaped footprint. This shape is very friendly to the people who have to work inside, and quite a sacrifice for the developers as it removes a large percentage of the rentable space compared to a square shape.
> Central plaza was developed by Sino Group, Sun Hung Kai Properties, and the Ryoden Group.
> This building is 1,014 feet / 309 meters to the roof, and 1,227 feet / 374 meters to the top of the spire.
> At the time of its completion, this was the tallest building in Asia.
> The top of this building is used by a church.
> The top of this building features an unusual clock. It consists of four horizontal lights that change color to indicate the passing of time. The clock is synchronized to the Hong Kong Observatory's official time.
> During construction, this building rose at an average of one floor every four days.
> This building has 39 elevators.
> This building has 1,140,974 square feet / 106,000 square meters of rentable space.
> This building has 538,195 square feet / 50,000 square meters of glass.
> This building has 19,685 linear feet / 6,000 meters of neon lights used to create displays for holidays and the nightly Hong Kong light show.
> September 11, 2001 - The observation deck on the 44th floor is closed to the public.
method='post' action='/Building.php?ID=1581#Rate'>Current rating:
80% name='Rating' id='Rating' value='Praise' class='Plain'> name='Rating' id='Rating' value='Raze' class='Plain'>
There are no comments. You can be the first to add your thoughts to this page.