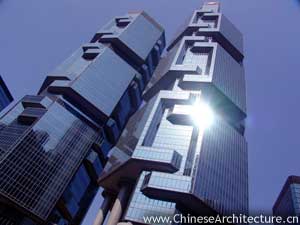 Photograph © Wayne Lorentz/Artefaqs Corporation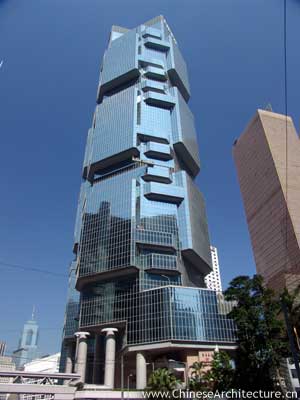 Photograph © Wayne Lorentz/Artefaqs Corporation
Scroll down for more pictures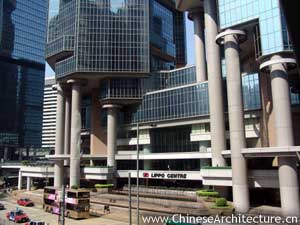 Photograph © Wayne Lorentz/Artefaqs Corporation
Lippo Centre

| | |
| --- | --- |
| Also known as: | The Koala Tree |
| Formerly: | Bond Centre |
力宝中心
Print this page
•
Share this page
•
Map This
One of the most beloved pieces of modern architecture in Hong Kong is the Lippo Centre -- affectionately known as the Koala Buildings. They earn that name from the way the interlocking four-pronged sections of the building seem to cling to the sides of the main tower shaft in much the same way a koala clings to the trunk of a eucalyptus tree. This is appropriate because the skyscrapers were commissioned by an Australian company. They have also been compared to totem poles, with figures seemingly carved out of the main bodies of the towers.

The Lippo Centre is located in the heart of the city's business district, with two towers seeming to cascade over a large podium. It makes the complex appear welcoming, while at the same time the support columns that extend from the towers through the plaza reinforce both the building, and the sense of place. The choice of dark blue glass hasn't been picked up by its neighbors, which have gone with light blue, black, and even gold reflective glass. That helps these towers stand out in Hong Kong's skyscraper forest even though they are smaller than the towers that have grown up around them.
> Lippo Centre Tower 1 is 564 feet / 172 meters tall with 44 stories.
> Lippo Centre Tower 2 is 610 feet / 186 meters tall with 48 stories.
No rating available at this time.
There are two comments.
Awesome bldg - Tuesday, December 30th, 2008 @ 11:22pm
J Newton - Friday, March 31st, 2006 @ 11:36am